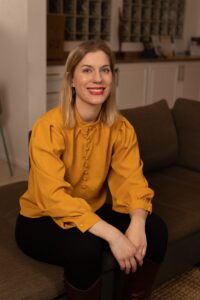 Melissa is a Copywriter, Ghostwriter, Resume Writer, and Job Coach.
Believe it or not, Melissa graduated college not even knowing about LinkedIn. She sought out career coaching from Cindy to learn about all the things college did not teach her about job searching.
Even though she graduated with a degree in journalism, she didn't have the confidence to pursue it and fell into the path of project management. She knew she didn't want to do that anymore and worked with Cindy again throughout the years to find her path.
Along the way, she dabbled in becoming a paralegal and in UX design. None seemed to be the right fit.
She didn't seem to be happy in a lot of her jobs and kept seeking the answers personally and professionally on how to find a career match. Through A LOT of trial and error, financial investment, coaching, and exploration, Melissa FINALLY realized that helping herself with finding the right path is what she wants to help others do.
As she continued to learn and grow, she obtained her International Coaching Federation (ICF), Certified Professional Coach (CPC) through Learning Journeys in 2021.
In addition to working at Find Your Fit, Melissa also works as a brand ambassador, catsitter, and copywriter. She loves to learn, fitness, wellness, and music. She has two kitties named Tiger and Luna.