Recently I have been thinking about the transitions between past, present and future work. I had some happy endings in 2021. I finished a certification in Neuroscience and Consciousness coaching and training from BeAbove Leadership, as well as a course on the Neuroscience of Change from Coaches Rising. On a personal note, I watched my oldest son's last high school marching band and jazz band performances. These endings are bittersweet and come with sadness and joy. As I think about how to apply what I've learned in 2021, and how to let go of my son as he will soon transition to college, I feel like I'm in the neutral zone; stuck between endings and new beginnings.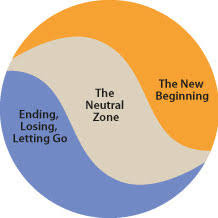 William Bridges, author of Managing Transitions, Making the Most of Change defines the neutral zone as "when the critical psychological realignments and repatterning's take place. It is the very core of the transition process". The time between the endings and the beginnings often comes with feelings of confusion, frustration, doubt, sadness, skepticism and moments of excitement. I'm curious, where do you feel the neutral zone in your life?
As 2022 arrives I'm working my way out of the neutral zone towards new beginnings. Below is a list of upcoming presentations that I hope can support you as you move through your transitions.
In January, join me for a panel discussion on Trends in Recruiting presented by MCDA.
In February, join me for CAREER CHANGE FOUNDATIONS; a four session interactive workshop for the price of $300.00. https://ccaps.umn.edu/courses/career-change-foundations 
Also in February, I will also be presenting a Stress and Wellness workshop sponsored by the Basilica of St. Mary's. More details to come.
In March, my coach friend Steve Schmidt and I will be presenting a webinar on LinkedIn. Watch for details.
I cannot create all new beginnings at once, so please watch for more information on other Career Transition and Wellness courses I hope to offer this spring.
As always, thank you for continuing to support me.
Cheers to happy endings, the neutral zone, and new beginnings! Goodbye 2021, Hello 2022!