Goals are outcomes waiting to be achieved. Goals; we all have them. Like an itch that needs to be scratched or a restlessness that you can't quite put your finger on. Goals are inside of us, waiting to come out and shine bigger and brighter than we ever thought possible. Singular, multi-step, granular, grand, lateral, or promotional, your goals are important-very important. They make up who you are, they keep you energized and motivated to achieve and ready to make a difference in this world.
Do you struggle with goal setting? Perhaps you start strong then fail to maintain the drive towards the outcomes you want to achieve. Do you need to change your habits and abandon the things holding you back?
The first step in setting a goal is to begin with the end in mind then work backwards to set phases then actions for achieving your intended outcomes. Below is an example of a Job Search Planning chart. Begin by noticing the outcome, Land Job, now move your way backwards, moving along the top of the chart from right to left, noticing the phases then read each accompanying action list under each phase.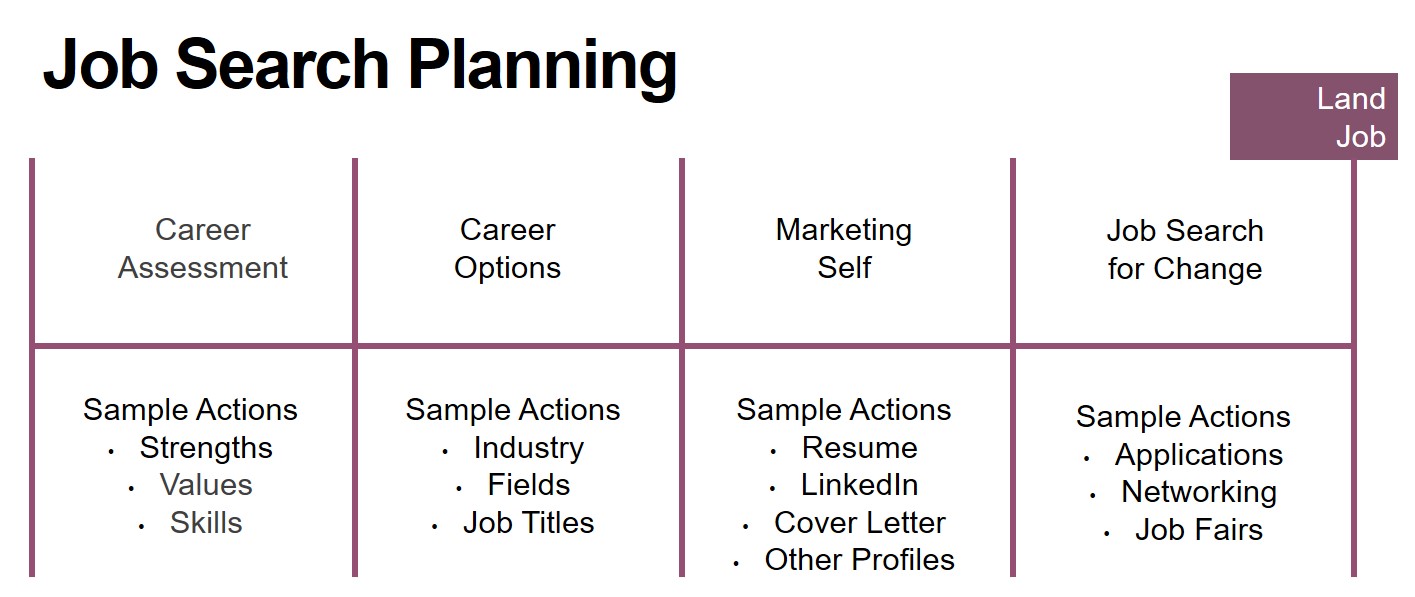 This example chart illustrates phases for landing a job such as, beginning with career assessment, understanding career options, strategies for marketing yourself and conducting a job search for change. Beginning with the end in mind then setting phases and actions can help you set, strive and achieve a goal.
Acquiring the skills you need to create exponential growth is possible. Achieving your goals is attainable. Set your sights on your goal, but understand that the path to success takes many forms. Be prepared to redirect when necessary. Have the tools, resources and education to make it happen. Being persistent and creating habits will get you there. You will be amazed at what your best self can do.
We all need help achieving our dreams and fulfilling our purpose.
From career assessment to developing a personal branding statement we can help you hone in on your strengths and interests. Thinking of making a career change or exploring colleges? Our team is ready to help you explore those options. Needing guidance with work and life? Feeling overwhelmed or the need to sharpen your communication and social skills? Want to be more organized or productive? Our team can help you gain clarity and focus, while being an empathic and strong accountability partner.
At Find Your Fit, LLC, your goals are our goals. Our passion is helping you live to your full professional potential.